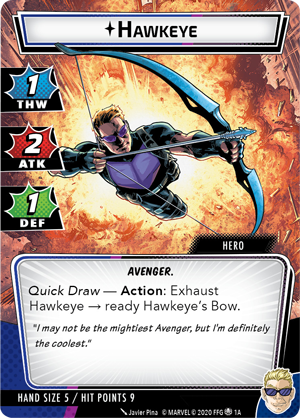 Hawkeye is really good for one thing: dealing damage. His 3 ATK (with Hawkeye's Bow) is the only good stat he has; his THW, DEF, REC, and HP are all basically as low as possible. His Hero kit is mostly arrows, 8 of which do damage, and all of which become effectively free with Expert Marksman x2 in play. He can't thwart consistently, he has no economic advantages outside of his arrows, and his only non-arrow related defensive option is to recur Mockingbird, which will effectively use 4 of the 5 cards in his Hero-hand.
This means, for better or worse, that Hawkeye's best strategy is to simply tear through the villain and all of their minions as quickly as possible. He is very good at this. With Hawkeye's Quiver, he can fire an arrow on most turns in addition to using his basic ATK, typically putting out 6+ damage. Using Explosive Arrow and Vibranium Arrow lets him easily shred minions, whether they're big and tough or small and many.
His weakness is that if anything ever goes wrong, he can easily go into a death spiral with no real way of recovering. Moreso than any other Hero, Hawkeye fears the villain getting extra activations. A single Assault can bring him to the brink of death and leave him with no good options the following turn.
Hawkeye can be fun, and when things go well, he can consistently take chunks of HP from the villain while clearing minions. Snapping off arrows turn after turn feels good, and it can be exciting not knowing which arrow you're going to draw and fire each turn. But he is very subject to the luck of the draw in getting Hawkeye's Quiver and Expert Marksman set up and has no innate ability to stall. If you like going straight for the villain's face, immediately solving every problem that comes your way with an arrow, you'll have a good time. If you like building up a slate of control effects to lock the board down and minimize risk, you're likely to be frustrated with him.