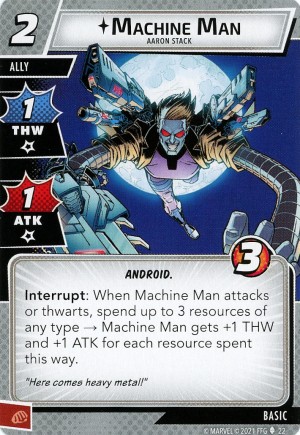 Typically with Basic cards, there is an additional cost levied because these cards can exist in any deck. And since this is a game predicated on reducing costs, a lot of basic cards never see the light of day.
But Machine man is an anomaly. He costs a little extra, but once you have him in play, he is a powerhouse. Think of all the times you have been at the end of the hero turn with cards in hand, and you can't use them. Machine Man provides you with an incredible way to clear your hand that either deals damage or thwarts, and then you can draw up an entirely new hand.
And since he has three health, you can leave him in the background to either strike or defend when necessary. His versatility is incredible, and to be honest, I think he's an absolute steal. Given what he does, I would have expected a cost of 3. Instead, you can chuck this guy into play for 2 and then have him do surgical strikes when you have cards you can't use this round.
He's a mercenary in the best sense. Love Machine Man.